Finally we have a Bollywood-introduction-hand-book in german language. Author Claus Tieber has done some interesting university-courses about Hindi-Movies in Vienna since 2004 and has now published a book which discusses indian dramaturgy, ways of production and aestetics of commercial Hindi-movies. This books yearns to "destroy" some of the cliches and prejudices about Bollywood "in a sustainable way", as Mr. Tieber said.
He himself has by the way obviously a special worship for superstar Amitabh Bachchan and the 70s movies. The book deals especially with Hindi-Films since 1947 and ends more or less with "Kabhi Khushi Khabie Gham". First of all the book portrays the historical view of Hindi-Mainstream Movies, but there are some sidetalks about NRI-Diasporafilms as well.

"Passages to Bollywood"
has all in all arround 180 pages and a
2-pages forword of Yash Chopra
. I just snooped for one hour into the book and have to confess that i didnt buy it or read it fully yet (thats cause i am what we call in austria a "bettelstudent"- and spent my last money for the Hepatitis-injection for my india-journey just the same day).
Mr.Tieber was presenting his book in Schikaneder-Cinema in Vienna yesterday. It was a huge success with arround 50 or more people participating. The announced "surprise-movie" was "
Kaala Patthar
" (1979, starring Amitabh, Shashi and Rakhee). Audience seemed to like it and i think Bollywood made some new friends in Vienna.
"Kaala Patthar" is one of the maybe less known Yash Chopra-movies subjecting the cruel exploitation through the indian coal-industry. Amitabh is playing the "Karna"-like angry young man. Adorable young Shashi Kapoor plays the morally obliged architect of the incredible hair-reasing dangerous coalmines. Just in short i would point out that the movie was a good choice in ascpects purchasing Mr. Tieber´s book. "Kaala Patthar" had some great (sometimes endless) dialgues and in ways of cinematography it really made me dizzy. But thats ok. Its Bollywood. But it´s a pitty that there was no intermission.
Richard Kisling, the Speakersmen of
"Lit-Verlag"
, who published the book, articulated his excitement about the book, with the word "Wahnsinn", which is a austrian way of saying "Wah-Wah"! The first 300 Books are already sold (within the last 3 weeks). And thats in spite of "Lit-Verlag" didnt have the chance to promote it accurate yet. "This took us completly by surprise", Kisling said. "We had no idea that the Bollywoodcommunity is that huge- and that they are so much interested in scientific books."
Well. They are. And if you follow the forum-discussions it would have been no surprise at all. Western Bollywoodfans in the germanlanguaged aera obviously just where waiting for something like this. I confess this makes me confident for my own book (which deals with the Bollywoodtrend in Europe since the Millenium). But i will be in india, when my book will be published (which should happen in April) -- and if there will be any discussions about my book i can decently hide myself there.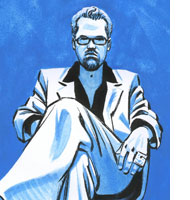 But i have one more thing to write: Mr. Tieber´s first introduction page is a decent refusal of the Bollywood-Trend in europe. He is telling that "the numbers" (he doesnt quote any- but at least i know that he meant the ones which i researched for my thesis) are showing that there is no european Bollywood-"Boom" (which media tried to construct) that "some should take serious". He writes that this is just a lifestyle-Hype. I contradict partly - in so far that i suggest that we should take it very serious. And ironically the succes of his own book is a objection to these words themselves.
Plus: Actually
DVD-Numbers
are declining (there are no more Top30 Hits in Germany since the last months) and on the other hand there are Hindi-Movies who had (if you ask me) major impact to a
non-indian community
(f.e. "Veer-Zaara", "Krrish" or if you take "Water" for a Hindi-Movie then also this Oscar-nominated, canadian production in hindi-language).
But however. I wish Mr. Tieber all the best for his book. Its like he himself writes in "Passages to Bollywood" somewhere: It makes even more fun to consume Bollywoodmovies if you have some background-knowledge. Thats so true. And if you are interessted in Bollywood-Backgrounds you will find them in this handsome and well-written book (except the word "Schnödipus" in context with the bollywoodian oedipus-complex, which confused me a little to be honest).
Well. What more to say? Go and buy "Passages to Bollywood". So then have double fun with your bollywoodmovies. And if you want to learn more about the reception of Bollywood arround here (including various facts and numbers) i suggest you will risk a deep look in to my upcoming book ("Faszination Bollywood", Tectum-Verlag).